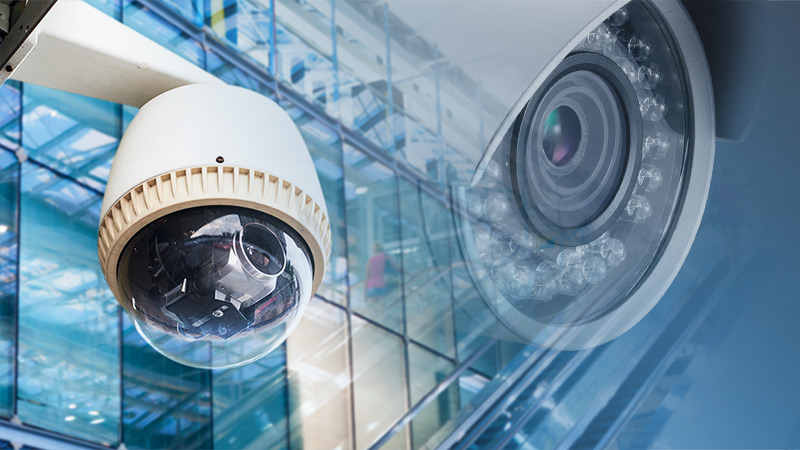 Infortrend offers comprehensive surveillance solutions, including stand-alone video surveillance storage systems and integrated storage servers, to meet various deployment scenarios, and satisfy industry's major concerns include low-cost capacity, system scalability and performance, data protection, and even expandability to cloud.
In addition, Infortrend partners with industry-leading video management software provider, Milestone, Genetec and Digifort, aiming to deliver optimized and integrated solution for this mission-critical industry.
---
Video Surveillance Storage
The mission-critical surveillance system requires a heavy-duty storage device to handle and store the huge amounts of video files with a steady video output. Infortrend offers comprehensive enterprise-level storage solutions, including scale-out Shared Storage, SAN storage and unified storage to meet the requirements of your deployment environment.
Scale-out Shared Storage – EonStor CS
EonStor CS is a scale-out storage with up to 100PB+ capacity and 100GB/s performance. With the 4U 60-bay model, CS's utmost storage capacity on a single system supports three thousands of 3MP IP cameras with up to 180 retention days. This capability will help to fulfill most capacity-hungry surveillance projects. In case of expansion demands, CS supports both scale-out and scale-up expansion. Users can simply add more CS units to create a cluster or adding expansion enclosures to create more storage space.
In addition to high scalability, CS is designed with multi-layer data protection on hard disks, node, and cluster levels. If any of the elements fails, neither the data will be lost, nor the system performance will be affected. For hyper-scale video surveillance projects or mission-critical applications, CS is the perfect fit.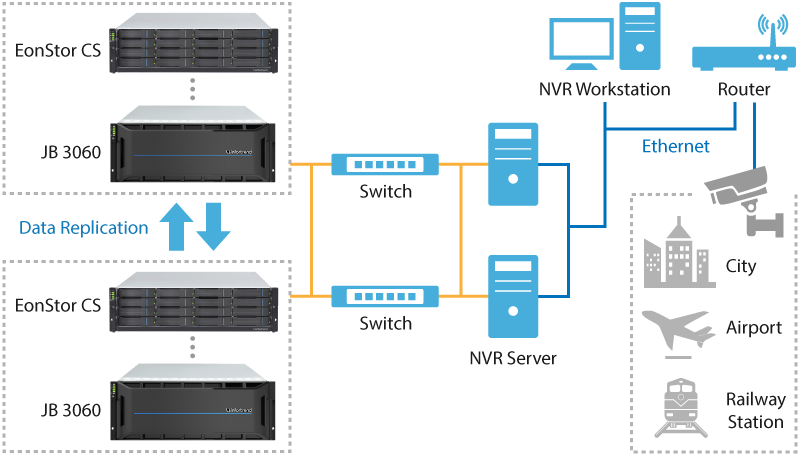 ---
Unified Storage – EonStor GS
EonStor GS is a high availability solution and integrates SAN and NAS services as well as Cloud Gateway features to offer enterprises a powerful hybrid cloud environment. A single GS system can supports two thousands of 3MP IP cameras with up to 180 retetion days. Besides working as a standalone storage in common SAN and NAS infrastructures, users can embrace a more flexible data management by transferring video files to public or private cloud as main storage or as remote backup use.
GS's complete product lines feature robust and flexible hardware design, including redundant key components, multiple form factors, flexible host boards to choose from, and stable, reliable modular design with high expandability. As for software, it comes with complete data services and EonOne, the simple and intuitive platform that help IT personnel to monitor and manage the system.
---
SAN Storage – EonStor DS
EonStor DS is a high availability SAN storage with Milestone VMS certification to guarantee reliable and continuous video recording. Users can connect the DS to a third-party NVR server and IP cameras to build a video surveillance system with up to 5PB+ capacity, which allows 500 units of 3MP IP cameras for 180 retetion days. DS offerings include the cost-effective single controller models and high availability dual controller models. Users can choose from various form factors to fit their requirements.
For example, DS 1000 comes with 2U 12-bay, 3U 16-bay, and 4U 24-bay form factors. For the space-limited environments and extreme performance demands, users can choose DS 3000 4U 60-bay model, which delivers ample capacity for large-scale surveillance applications.
A perfect example is the project in Gwanak District (Gwanak-gu), Seoul, South Korea. Because of limited data center rack space and more than 2,500 cameras video need to be recorded, DS 3000 4U 60-bay high density RAID system is the perfect solution: an achievable 4PB storage capacity, solid performance that guarantees 24/7 stable recording quality. DS 3000's modular and cableless redundant components design offer a reliable performance of up to 99.999%, making it an excellent choice for capacity-hungry surveillance applications.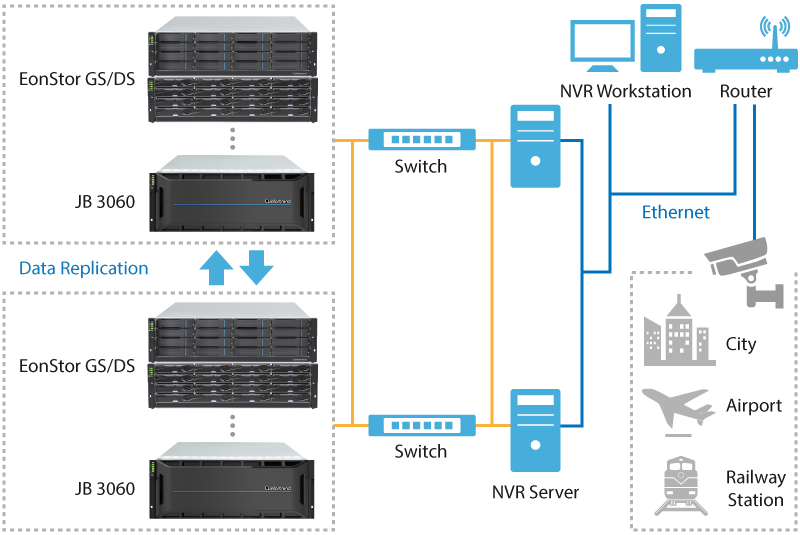 ---
Integrated Storage Server
Integration of servers and storage devices is a major trend in the future for enterprise applications, for it reduces deployment and management complexity, and hence, reduces the total costs. Infortrend's EonServ storage servers combines NVR server and data storage in one device to deliver a ready-to-use surveillance solution.
EonServ features certified Milestone XProtect® VMS to be compatible with various IP cameras and digital video recorders. As an open platform, Milestone VMS allow users to versatile functionality that cater to their own needs. Besides Milestone VMS, EonServ also supports leading VMS, such as Genetic and Digifort, to provide best video performance to customers.
EonServ also works as a storage that provides massive capacity while incorporating data protection (RAID 5, RAID 6) with an easy-to-use management software. Its hardware design features 2U 12-bay or 3U 16-bay form factors, with SAS support for JBOD storage expansion of up to 436 disks, reaching 4PB+ capacity that allows support for 500+ channels of 3MP IP camera.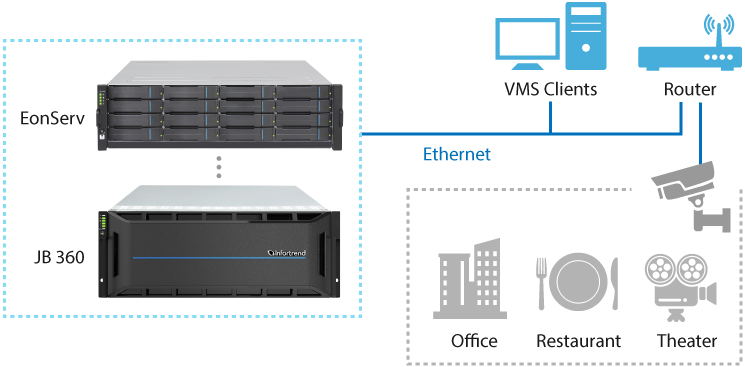 ---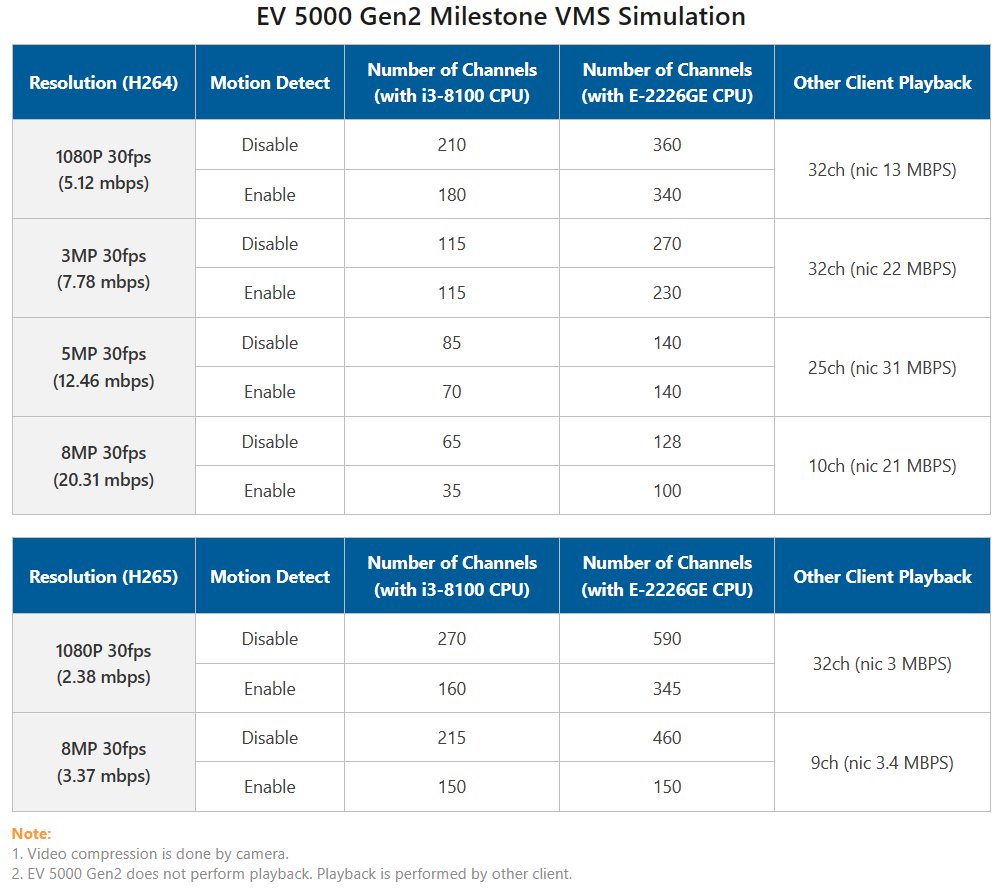 ---
For more information – visit Surveillance and Security – VMS-certified & AI-optimized Storage Solution | Infortrend