Times Have Changed, So Has Your Data
Data is living. It doesn't only move in one direction or stay in one location. Some data requires high performance and easy accessibility, other data needs to be archived for years or decades. Sometimes data moves back and forth on that continuum, gaining value at every turn, and being reprocessed and repurposed across the lifecycle. It's not enough to simply store your digital data and video—it must be analyzed and enriched to gain insights and give you a competitive edge. With decades of expertise, Quantum's end-to-end AI-driven data platform enables you not only to store but enrich, protect, and archive your unstructured data across the entire lifecycle, securely and at scale, unlocking the value in your data to drive business forward.
Quantum offers end-to-end solutions that help you navigate the data landscape of unstructured data – to classify, manage, store, share, and protect your data for greater productivity and efficiency. It's not only about managing data. It's about making sure you can extract value from it to gain a competitive edge. Between 80-90% of data collected today is unstructured. Locked inside these video and audio files, photos, security camera footage, sensor data, scientific data, and satellite imagery is a wealth of information that holds the key to informed decision-making.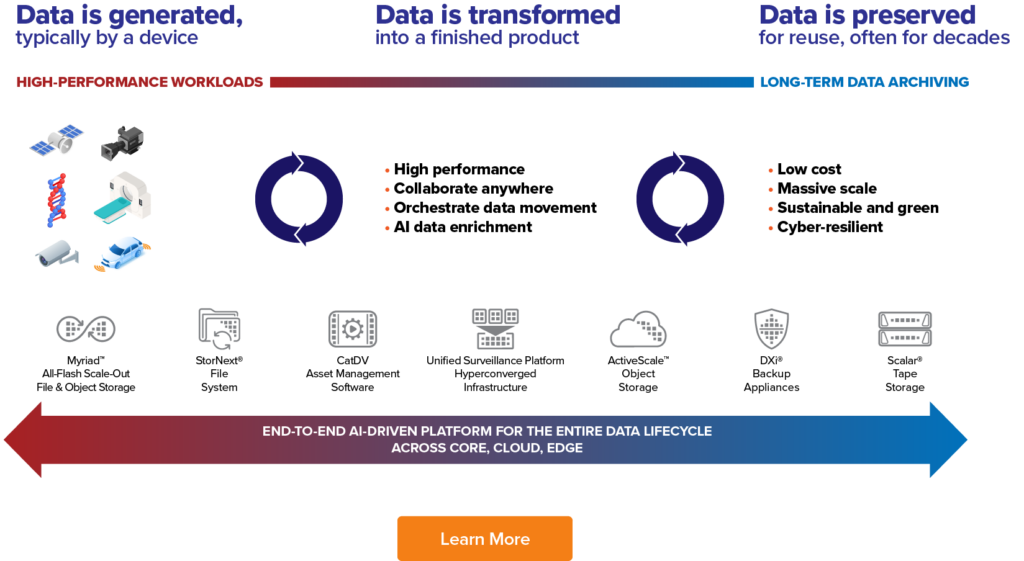 Myriad All-Flash Scale-Out File and Object Software – Accelerate performance and innovation with cloud-like simplicity.
StorNext File System – File and Block Storage – A high-performance file system for high throughput, low latency workloads.
CatDV Asset Management Software – Platform Agile asset management and workflow orchestration platform that provides powerful asset management, automation, and collaboration tools.
Surveillance – A security infrastructure portfolio of NVR recording servers, hyperconverged appliances, video analytics servers, and shared archive storage.
ActiveScale Object Storage – The industry's most advanced solution to scale active and archived data sets affordably and securely from terabytes to exabytes.
DXi Backup Appliances – DXi appliances deliver the industry's best inline data reduction at the lowest cost throughout your entire backup environment, across edge, core, and cloud, to protect your AI data sets and other mission-critical workloads.
Scalar Tape Storage – Low-cost, secure storage for long-term data archiving and cyber protection. Scalable data repository with ransomware recovery.
Bring Your Cold Data to Life
Quantum ActiveScale™ Cold Storage is a new class of object storage that provides secure, highly durable, and extremely low-cost storage for archiving of your cold data. It enables any organization generating petabytes of data to deploy S3 Glacier Class storage within their own data center, colocation facility, or hosted IT environment.
Getting More Value from Your Cold Data
Whether you are developing solutions for life and Earth sciences, media production, government programs, web services, IoT infrastructure, AI/ML, or video surveillance, ActiveScale puts an affordable scalable solution within reach. Now, you can build your own private cloud storage environment, seamlessly grow your data stores from terabytes to exabytes, and reduce the cost of your cold data by up to 80%.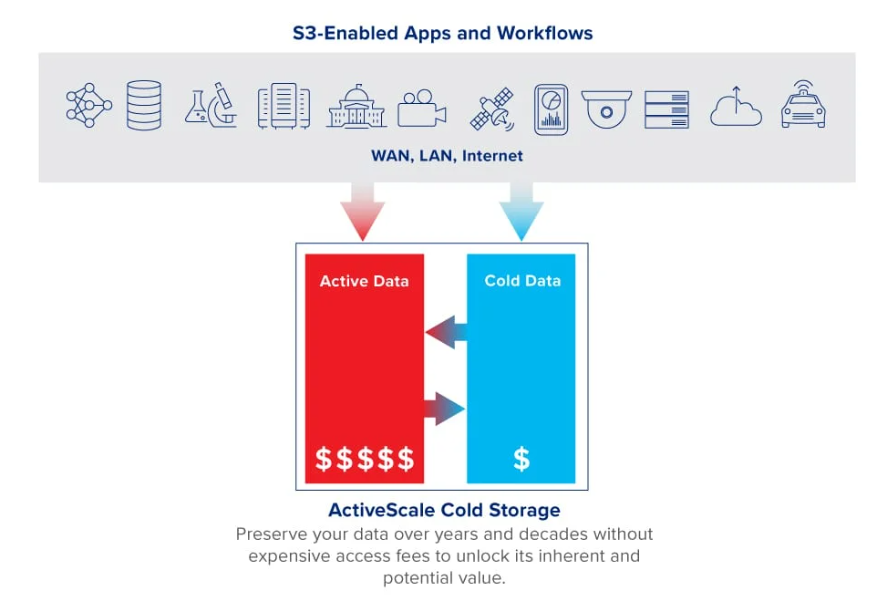 A Modern Design to Keep Pace with Change
Modern applications like rapidly evolving data science, AI, VFX and animation require a solution that delivers consistent high performance and low latency. But, it's also critical to have a truly agile, modern infrastructure that doesn't rely on legacy or custom hardware and can grow as your technology needs change to keep costs low, reduce complexity, and future-proof your infrastructure.
Myriad all-flash, scale-out file and object software solves these challenges with a cloud-native architecture designed for the latest flash technologies to deliver consistent low-latency performance at any scale. It introduces inline data services such as deduplication and compression, snapshots and clones, and metadata tagging to accelerate AI/ML data processing. And it uses familiar and proven cloud technologies, like microservices and Kubernetes®, to deliver cloud simplicity wherever deployed.
With no custom hardware required and a modern architecture, Myriad adapts to future storage needs while lowering costs and reducing the management burden on over-extended staff so they can focus on innovation.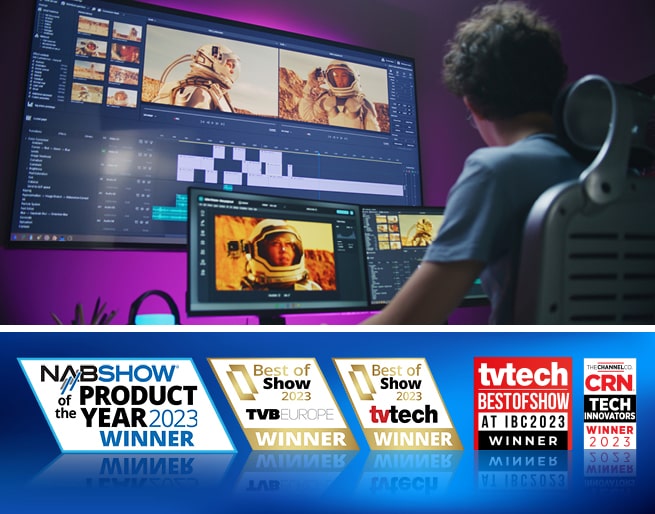 Solutions for the Entire Data Lifecycle
Quantum's end-to-end platform includes Myriad for "hot data" that requires high performance and low latency all the way to solutions for "cold" data that must be archived for analysis and compliance. Our Cloud Based Analytics software provides real-time monitoring of system health across the entire portfolio.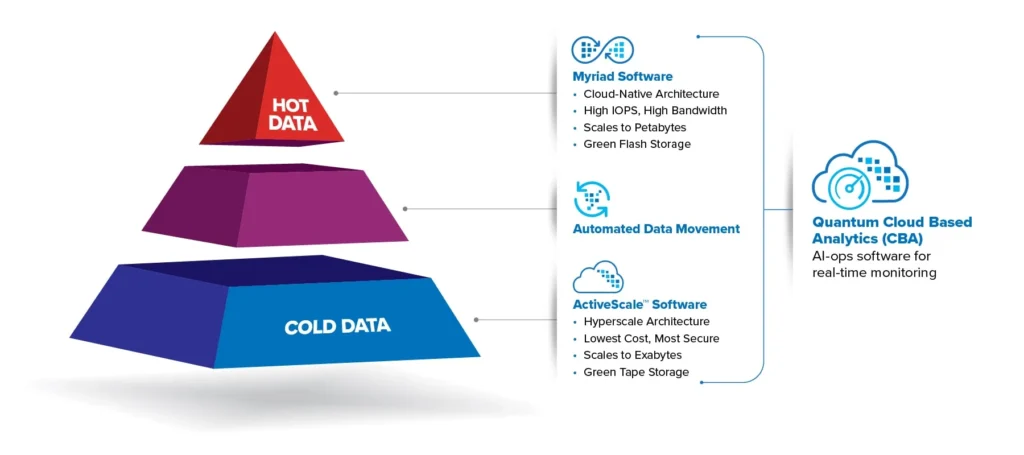 Myriad System Capacity and Scaling

For complete spec information, see the datasheet.
For more information – visit www.quantum.com