Infortrend is a leading provider of high-performance networked storage solutions focusing on quality, reliability, choice and value. Fully dedicated to storage solutions, Infortrend has a strong technological foundation that includes one of the best R&D teams in the industry. Infortrend's expertise covers all aspects of storage systems, including hardware, firmware, software and system integration.
To ensure product excellence, Infortrend systems are designed and manufactured in-house. Infortrend storage solutions have been widely deployed on a variety of demanding applications by multiple users across commercial and industrial markets.
Over 25 Years of Enterprise Data Storage Expertise
Infortrend wide-ranging product lines include storage solutions from SAN, NAS to Unified for customers from SMBs to large enterprises.
Infortrend offers a large selection of form factors from 2.5-inch small form factor (SFF): 2U 14/24/25-bay and 4U 48-bay to 3.5-inch large form factor (LFF): 1U 4, 2U 8/12, 3U 16, 4U 24/40/60/90-bay, and desktop 5/8-bay.
To ensure complete compatibility with all kinds of enterprise applications, Infortrend provides a rich choice of communication interfaces for SAN environments, such as 16Gb/s FC, 32Gb/s FC, 1Gb/s iSCSI, 10Gb/s iSCSI, 25Gb/s iSCSI, 40Gb/s iSCSI, and 12Gb/s SAS; as well as for file-level NAS architecture, including 1GbE, 10GbE, 25GbE, 40GbE, and 100GbE ports.
EonStor GS Family
Scale-out Unified Storage with High Availability for Enterprises
EonStor GS is an enterprise unified storage solution that integrates SAN, NAS, and cloud services. With scale-out capability, it enables enterprises to flexibly expand performance and capacity.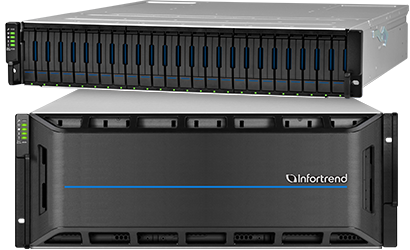 EonStor GSe Family
Scale-out Unified Storage for SMB
Designed for SMBs, EonStor GSe is a unified storage solution that integrates SAN, NAS, and cloud services. With scale-out capability, it enables companies to flexibly expand performance and capacity.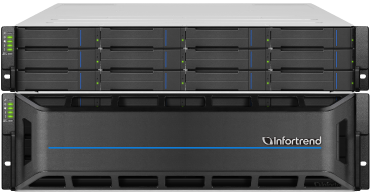 EonStor GSe Pro Family
Enterprise-class Features in the Most Affordable NAS
EonStor GSe Pro is a single controller solution with support for SATA and SSD drives exclusively designed for SMBs, integrating SAN and NAS services as well as Cloud Gateway features to be deployed under a general NAS architecture for file sharing, backup, cloud synchronization, video editing, and surveillance purposes.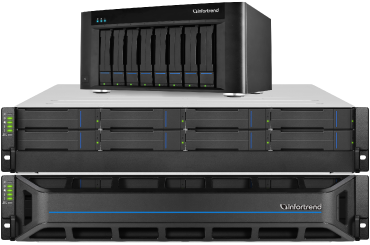 EonStor DS Family
Enterprise-class High Availability SAN Storage
EonStor DS is a high availability SAN storage solution designed for enterprises. Its hardware design features multiple form factors, flexible host boards to choose from, and stable, reliable modular design with high expandability; as for software, it comes with complete data services and easy-to-use management interface.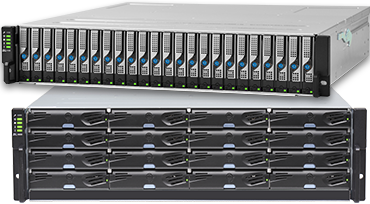 EonServ Family
Highly Integrated Storage Server
EonServ is an integrated storage server solution exclusively designed for enterprises, providing complete storage protection (RAID 1, RAID 5, RAID 6) with an easy-to-use management software to effectively lower deployment costs and maintain complexity.
Our Technology Advantages
Infortend's experiences in redundant and high availability hardware design and proprietary firmware/software integration capability set us apart from other Linux-based NAS providers.
Over 20+ years of focus on the block device design resulted a highly streamlined and efficient firmware architecture to deliver on price-performance. Our products ranked at top in SPC benchmarks is a testament to that.
We also offered true Unified Storage with support to Fibre Channel device, and our firmware supports native iSCSI channel implementation, not through OS simulation like other Linux based NAS, which resulted in big difference in performance.
Our intelligent firmware can automatically adjust the data processing mode for the IO behavior of the underlying application, whether it is small file based (such as database) or large file based applications (such as broadcasting/media editing), to deliver amazing performance.
Unlike other Linux-based NAS rely on OS for their drive handling capabilities which resulted in performance degradation with increasing number of drives, Infortrend's unique drive handling capability offers linear scale-up performance with increasing number of drives.
Our Intelligent Drive Recovery (IDR) technology can also inspect and recover drive data to prevent time-consuming rebuild process and offer truly competitive NAS solution that excels in price-performance.
Our management software – EonOne offers centralized interface that can monitor performance, capacity, system status, and manage multiple systems. Our service manager provides automatic system diagnosis and instant notice to Infortrend's technical support.
For more information – visit www.infortrend.com